Challenge over bereavement benefits
27 January 2016

From the section

Bus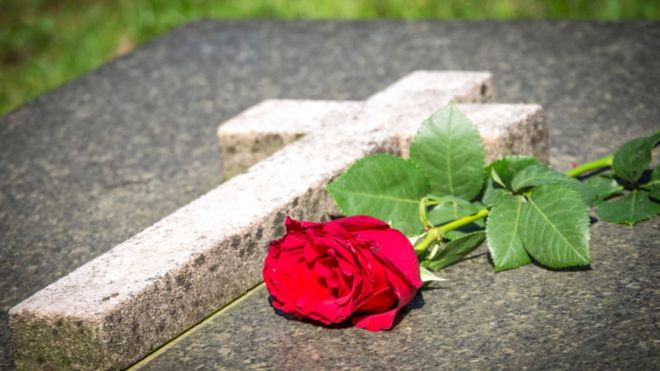 Each year, an estimated 7,000 newly-bereaved partners receive nothing in bereavement benefits when their partner dies, as they are not married.
Insurance company Royal London calculated that £82m a year would be paid if the benefits were extended.
A committee of MPs has challenged the government on why benefits for bereavement are limited to those married and in civil partnerships.
The government said that other financial support was available.
---
'Massive shock'

Claire Harris, 38, lost her partner Gary to cancer in 2012 when he was aged 36.
The couple, from Milton Keynes, had three children but were not married.
"To have to stress about financial things and worry about things like that when you are going through the process of planning a funeral is a massive, massive shock," she said.
"To lose the love of your life – the person you plan to grow old with – and have that relationship turned into nothing more than 'he was just your boyfriend' is very hurtful."
Claire – who has received help from charity Widowed and Young (WAY) – is working from home as a therapist, but says the income is not enough.
---
'Complicated'
A growing number of people in the UK – now six million – are living together without being married.
If one partner dies, a surviving partner does not qualify for bereavement benefits, even if they have been together for years and have children.
Those who are married or in a civil partnership receive a bereavement payment of £2,000, paid if a wife, husband or civil partner dies before pension age, and an allowance of up to £112 a week for one year, which can carry on longer if there are dependent children.
The government said it had no plans to change the rules, but MPs on the Work and Pensions Select Committee have asked whether at least cohabiting couples with children could qualify.
Pensions Minister Ros Altmann told the committee that to extend the benefit to unmarried couples would mean it would have to be less generous to everyone who claims it. She said she was sympathetic, but there appears to be little chance of a change in the rules.
A spokesman for the Department for Work and Pensions said: "We are modernising bereavement benefits, introducing a simpler and fairer scheme that will better assist people in what can be an extremely difficult time.
"Proving cohabitation following a bereavement would be extremely complicated, open to interpretation and can lead to additional burdens to claimants. But other financial support including funeral payments is available to cohabitees."
Making bereavement support payments available to cohabitees would cost the Treasury an estimated £300m over the first four years from April 2017, government calculations suggest.