That Dragon, Cancer: the video game that takes death seriously
A grieving father's heartbreaking memorial for his son demonstrates that the genre can be about more than entertainment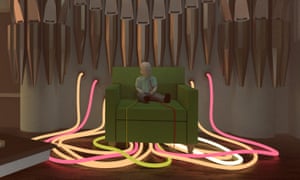 Entertainment is what drives the industry. But it need not define the medium and that it can be more is evident in the recently released That Dragon, Cancer, a title with an uncomfortable subject at its heart. It is a game made by parents Ryan and Amy Green about their son Joel, who was diagnosed with brain cancer at 12 months old.
It could not be further from the gung-ho gun battles where action and consequence have long ceased to have a relationship. Viewed from the first person and navigated by clicking, memoirs drawn from home movies, poems and answer-phone messages grant uneasy documentary-like access to the ups and downs of Joel's life that lasted only four years after his diagnosis.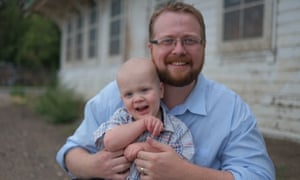 Joel's parents, developer Ryan and his wife Amy, along with a handful of artists and programmers, created the game that's now available on PC, Mac and Ouya – but not as cathartic retrospection: it was made as the chaos and uncertainty of Joel's treatment continued.
Ryan, a tall, warm man with a welcoming presence, talks in calm and resolute tones about the shock of the diagnosis. "The moment the doctor came back through the door, you could see it on her face. Then we were walking down the hall; sitting on tiny uncomfortable couches; hearing words like lesion and knowing that it likely means cancer," he says. Bad news embeds details like these in our memory and already it's clear Ryan has an eye for this mechanic. Determined not to "flail", as he puts it, Ryan was out of his depth as both a father and a practising, committed Christian: "We needed to find something we could do as Joel's parents, since we could not heal him."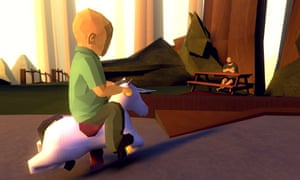 Being a coder, he stumbled on the unusual idea of creating a video game about Joel's cancer. "We had this idea of living, abstract interactive paintings: cubism, expressionism, even interactive haiku. Eventually we landed on the first scene of the game based on a poem I wrote about a night spent in hospital while Joel was dehydrated," he says. Ryan describes the feeling, smile intact but with somewhat glassy eyes, of playing a game he couldn't win as he tried to get fluids into Joel. Combined with poetry, poignant piano music and his eye for life's absurd details in the midst of catastrophe, this was the first part of the game shown to the outside world.
Unlike a film, interactions invite involvement in the drama. "Are you OK with Joel?" Ryan pokes his head round a door in the game as he literally leaves the player holding the baby. "I remember you," says Joel in a later scene, and again we are placed at the heart of the family story.Here then, voices and sounds from home movies and Amy's answerphone messages are uneasy listening, but it's impossible to look away. This risk of voyeurism is part of Ryan's plan. "We wanted people to know that Joel was a real boy, who loved playing with his brothers and screaming in glee while playing with puppies," he says.
Equally, the Greens have unashamedly weaved their faith through the game along with Bible stories and church songs. Some may find this uncomfortable but it's simply the family being true to themselves. Ryan tempers Amy's assured belief in Joel's healing with doubts and uncertainty.
In real life too he doesn't duck questions about his evangelical faith. "Many times the answers we think we have don't take into account the experience of walking through pain … I've not lost my faith, but it's much more complex than it was five years ago."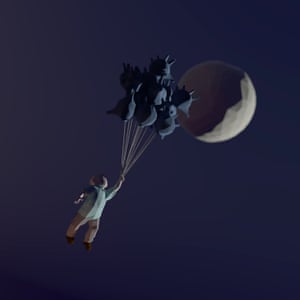 But what had started as a video game about hope for healing suddenly changed direction on 13 March 2014, when Joel died from an atypical teratoid rhabdoid tumour. He was five. "Joel's death provided an ending for the game," says Ryan. "Because anybody who has walked through cancer knows that it's never 'over'. We were forced to confront this common pain. Even if it isn't the story we would have chosen, it's the story that was written on us. We were just reciting it."
Having shared Joel's giggles in the playground, raced go-karts round the ward and rocked him to sleep during chemotherapy, the end to that story comes as a shock. However, once the emotions have subsided, what remains is singularly hopeful.
We are invited into its chaotic world and asked to love Joel for ourselves. This could not be further from instant gratification represented by most of the medium; it becomes less a game about cancer or bereavement and more a study in gratitude for the time we have with others and a celebration of how they continue on, even after they've gone.